From learning more about the underwater worlds in our oceans to historic mansions, there's a museum sure to pique your interest in the Smokies.
Pigeon Forge seriously has everything.
Outdoor adventures? Check.
Indoor attractions? Yep.
Roller coasters? You bet.
Dinner shows? Of course.
Also on the ongoing list of things to do is the many Pigeon Forge museums. When putting together your trip itinerary, consider visiting the top Pigeon Forge museums including:
1. Titanic Museum Attraction
The Titanic Museum Attraction honors the lives lost on that fateful April night in 1912. As you enter the museum, you are handed the boarding pass featuring the information of a real-life passenger aboard the ship. Hold on to this pass, as it comes into play at the end of your visit.
The museum features numerous exhibits with artifacts from the ship, replicas from the movies, and realistic depictions of life on the infamous vessel. You'll be able to learn what the various cabins looked like, how the ship operated, and what events occurred leading up to the awful tragedy.
At the end of your visit, you'll enter a room with a list of all the passengers on the Titanic. Look down at your boarding pass and discover your passenger's fate and story.
The museum is appropriate for older children, as well. Kids can take part in interactive exhibits and speak with costumed guides throughout the museum for a hands-on education.
2. Ripley's Aquarium of the Smokies
Among the most popular Pigeon Forge museums, a trip to Ripley's Aquarium of the Smokies is a must. This interactive aquarium features thousands upon thousands of underwater creatures and plants from all over the world.
Some of the hands-on exhibits include touching a stingray, painting with a penguin, and glass bottom boat rides through the aquarium. Visitors also love marveling at the fish and aquatic mammals on the 340-foot moving walkway through the Shark Lagoon!
If you wish, you can also sign up for additional experiences that put you face-to-face with your favorite marine animals! Feed a sea turtle, sign the little ones up for an aquarium camp, or take a behind-the-scenes tour—the choice is yours.
Best of all, Ripley's Aquarium of the Smokies is right in downtown Gatlinburg, for a convenient drive from Pigeon Forge.
3. Alcatraz East Crime Museum
With the recent rise in true crime interest among travelers thanks to podcasts and TV shows, it makes sense that Alcatraz East Crime Museum is one of the top Pigeon Forge museums. This in-depth museum boasts artifacts from notorious criminals, prisons, and famous crime scenes.
Alcatraz East Crime Museum offers five different hands-on galleries, allowing guests to dive deeper into some of the most infamous crimes our world has ever seen. The galleries include:
History of American Crime
Consequences of Crime
CSI
Crime Fighting
Counterfeit & Pop Culture
You'll see the Bronco from the OJ Simpson case, Al Capone's Rosary, and John Dillinger's Car along with other artifacts. From mugshots to forensic science, this museum has it all. And, to extend your experience, the museum also offers two additional paid experiences. Test your flexibility and skills on the Heist Laser Maze or participate in the Top Detective Challenge and see if you can solve the case!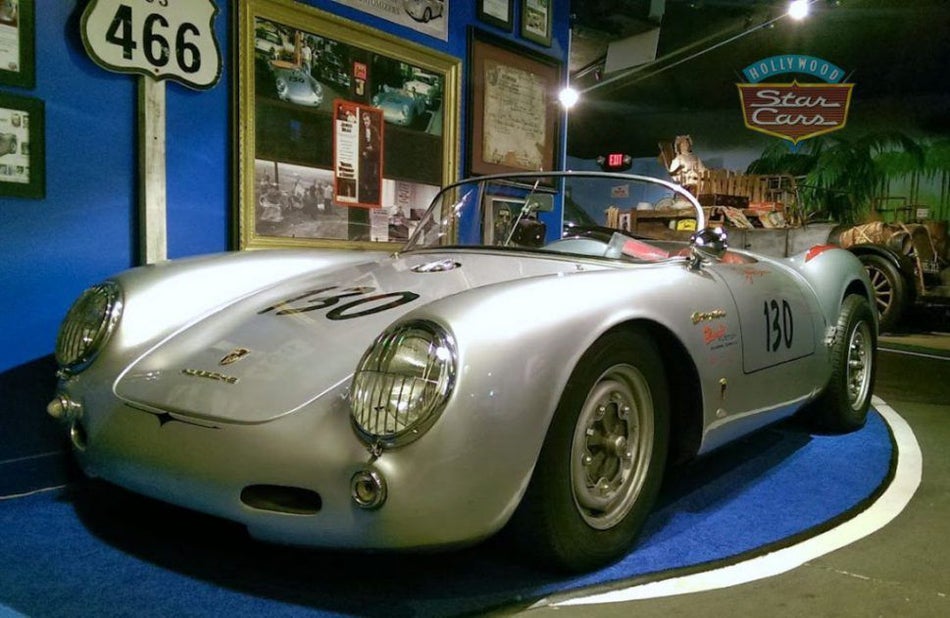 4. Hollywood Star Cars Museum
If you're traveling to Pigeon Forge with a car enthusiast, be sure to make a pit stop at the Hollywood Star Cars Museum. This intriguing museum boasts cars and vehicles from iconic movies and TV shows from the past 50 years. Plus, each vehicle is also set in recreated backdrops with lights, sound, and action for a realistic effect.
You'll see cars from some of the world's top films including Gone in 60 Seconds, Charlie's Angels, The Fast and the Furious, and Back to the Future. And you can't forget about Bumblebee from the hit Transformers series!
This self-guided museum tour is a match made in automotive heaven for fans of cars, bikes, and other vehicles. Other top cars in the museum include the Beach Boys' 1955 Thunderbird and Sir Paul McCartney's Cadillac. Remember to bring your camera for all of these epic photo opportunities.
5. Biltmore Estate
Although not located in town, Biltmore Estate is considered among the top Pigeon Forge museums due to its proximity to the area. Pigeon Forge travelers often take a full day to trek to this historic museum and grounds for a day of fun and education.
Biltmore Estate, located in Asheville, North Carolina (about one and half to two hours from Pigeon Forge), was once owned by George Vanderbilt. Boasting a 250-room chateau filled with historic works and information, this impressive mansion also features an 8,000-acre backyard with perfectly manicured gardens and landscapes. Guests are welcome to tour the estate and should purchase tickets in advance.
Of course, the estate's biggest draw is the wine! In 1971, the Biltmore family began producing their own wine on their North Carolina vineyards. From there, they continued to perfect their craft until it turned into the global phenomenon it is today. At Biltmore Estate, you can go behind-the-scenes and learn more about the winemaking process and the estate's vineyards.
6. Beyonds the Lens! Family Fun
Beyond the Lens! Family Fun allows guests to explore the best pop culture references through interactive games and exhibits with plenty of photo opportunities available. Walk Hollywood's red carpet just like the stars while hordes of paparazzi snap pics, play augmented reality games, search for Bigfoot, and more! Make sure to take plenty of selfies with the family to capture memories.
Their fascinating exhibits include:
SELFIE Spectacular
Search for Bigfoot
Visit the Royals Closet
A walk through the Human Kaleidoscope
Celebrity Gossip Room
The JFK Conspiracy
The Alien Egg Pit
Walk the "Red Carpet"
For the best photo opportunities and a unique pop culture experience, head to Beyond the Lens! Family Fun for a guaranteed good time.
4 Quick Tips for Visiting Pigeon Forge Museums
To make the most of your trip to Pigeon Forge's best museums, keep these tips in mind.
Buy Tickets in Advance
With so many families visiting the Smoky Mountains each year, ticket lines at Pigeon Forge museums are extensive. To skip the lines and head right into the fun, get your tickets online before you go. On top of bypassing a long wait, you'll also take advantage of awesome discounts!
Wear Comfortable Attire
Many of Pigeon Forge's museums take a few hours to explore. With this in mind, wear comfortable walking shoes as well as attire. Take a look at the weather forecast for your intended visit and plan accordingly.
Eat Before
Again, you may be in the museums for quite some time during your visit. Eating a healthy and filling meal beforehand will keep your energy levels up! On top of being energized, you'll save money by skipping the museum snack bars or cafes.
Understand the Rules
Some Pigeon Forge museums have specific rules and restrictions due to the nature of the galleries. For example, photography is prohibited in certain areas of the Titanic Museum Attraction. Please note and follow all museum rules during your experience.
Get Your Pigeon Forge Museum Tickets Today
Ready to explore all of Pigeon Forge's top museums? Purchase your family's tickets today.