But, a bit of advanced planning is required to maximize your time. When you're planning to spend 2 days in Los Angeles, use this short itinerary to make the most of your time.
Day 1: Hollywood
If it's your first time in Los Angeles, one of your two days must be spent seeing Hollywood. Film buffs and pop culture fanatics alike can appreciate the area's history, sites, attractions, and more.
As you're exploring Hollywood, take time to check out top attractions such as:
Hollywood Boulevard
The Hollywood Sign
Historic Hollywood Movie Theaters
Hollywood Walk of Fame
Sunset Strip
To prepare for your full day in Hollywood, wear comfortable walking shoes and weather-appropriate clothing. Remember to bring your fully-charged phone and camera, too, so you can capture lifelong memories of this day.
Day 2: Your Choice of Los Angeles Adventure
After you've immersed yourself in Hollywood's best and brightest attractions, the theme of your second day is completely up to you.
Choose from these exciting things to do on your second day in Los Angeles.
Los Angeles Theme Parks
Are you looking to add a bit of a thrill to your 2 days in Los Angeles? If so, you're in the right place. The city is home to several theme parks which offer everything from extreme roller coasters to heartwarming nostalgia.
A few of the area's top theme parks include:
To make the most of your day at the parks, be sure to buy your tickets online. In addition to taking advantage of significant ticket discounts, you'll be able to skip the ticket line and head right into the park!
Additionally, be sure to check your chosen theme park's rules for attire, bags, food, and media before you go. Certain parks allow guests to bring coolers of food and water, while others prohibit these entirely.
Outdoor Adventures in Los Angeles
Would you rather spend your last day in Los Angeles outside? From hiking trails to horseback riding, there are plenty of outdoor adventures waiting for you in and around the city.
For those who want to hit the trails, check out area trails at Griffith Park, Runyon Canyon, and Franklin Canyon. You can also sign up for a Hollywood Hiking Tour to combine your hike with area history and more!
Or, for another outdoor adventure, travel to the Hollywood Sign via horseback! Other fun outdoor activities include:
Sailing to Catalina Island
Paddleboarding
Camping
Visiting Botanical Gardens
Surfing
Los Angeles Beaches
You can't spend 2 days in Los Angeles without at least seeing the ocean! Take time on your last day in the city to head over to the top beaches in LA, like:
El Matador Beach
Malibu Surfrider Beach
Santa Monica Beach
Redondo Beach
Abalone Cove Beach
If you're not a fan of crowds, consider visiting the beach at an off-peak time of the day such as early morning or late afternoon. Be sure to also check each beach's rules about parking and food before you go. Consider using an Uber or Lyft to avoid parking fees at the beach.
Los Angeles Museums
Perhaps you'd like to spend your last day in Los Angeles diving deep into the arts, history, or education at some of the best museums in the city. From historic works of art to interactive exhibits about science, you're bound to find a museum that piques your interest.
A few of the top museums in the city include:
While these museums do require guests to purchase a ticket, you may be lucky enough to plan your Los Angeles trip around a Free Admissions day.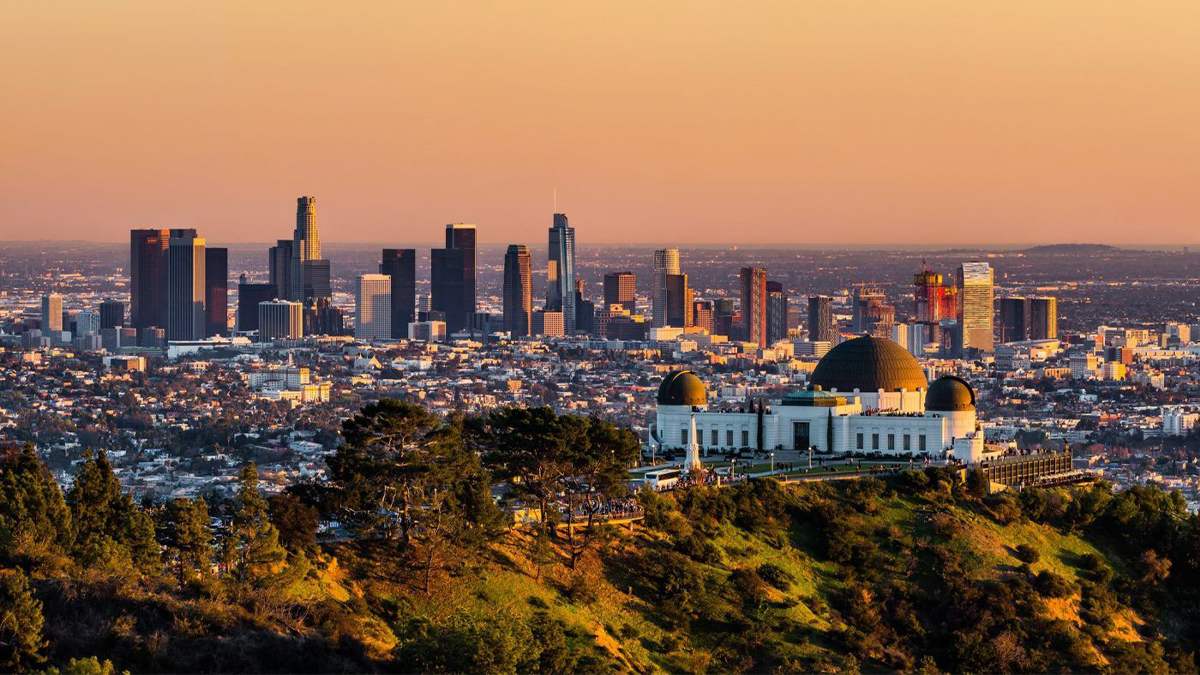 Tours of Los Angeles
Another way to spend one of your 2 days in Los Angeles is on a tour. Whether you're interested in Los Angeles' film industry, culinary scene, history, or the city's top celebrities, there's a tour for that.
Sign up for a spot on exciting LA tours like:
Movie Stars' Homes Tour
Deluxe Grand City Tour of Los Angeles
Wear comfortable walking shoes and bring your camera!
Quick Tips for Spending 2 Days in Los Angeles
Once you know what you want to do during your two days in LA, these easy tips will help you make the most of your time in the city.
Book a Hotel Near the Fun
Try to book a hotel close to your attractions and destinations of choice. This will cut down on the commute time between each activity, leaving you with more time to explore and more money in your travel budget overall thanks to reduced transportation costs.
Buy Tickets in Advance
Whether you're planning to ride roller coasters or stroll through a museum, buying your tickets online is advantageous. In addition to significant discounts, you'll be able to take advantage of other promotions and skip the ticket line, too.
And, if you bundle your tickets with a hotel room through Tripster, you'll save even more on your LA vacation!
Pack Appropriately
Knowing what to pack for your Los Angeles vacation is key. After all, you don't want to spend the majority of your 2 days in Los Angeles shopping for clothes or toiletries you forgot. Use this simple packing list to ensure you bring everything you need on your trip.
With these activities and tips in mind, you're ready to spend two fantastic days exploring Los Angeles!