As the days grow shorter and darker, and that familiar winter chill creeps in, it can be so tempting to hole up in our apartments and queue up another Netflix series.
However, now more than ever we need to explore new ways to invite creativity, beauty, and inspiration into our lives.
Art makes life worth living as it allows us endless opportunities for exploration and discovery. In addition, continuous exposure to art helps us appreciate the magic of our surroundings and can even relieve stress and anxiety.
Every November 9th, art lovers worldwide take a break from their desks to feast their eyes on the amazing art at their local museum. Each year more than 30,000 museums and art-related exhibits participate in this creative commemoration designed to help visitors of all ages and backgrounds fall in love with the art again. 
Wherever you are this November 9th, we hope you seize this chance to investigate a new art museum, tour, exhibit, or gallery!
California - Best Art Museums
San Francisco Museum of Modern Art, San Francisco
The Golden Gate City has been long heralded as a hub of artistic freedom and creativity, so it's no surprise that the San Francisco Museum of Modern Art delivers an unparalleled art encounter.
Related Post: 12 San Francisco Hidden Gems You Don't Want to Miss
SFMOMA sees art as a multidimensional endeavor that encompasses a variety of mediums including media, film, paint, architecture, and more.
Museum visitors will feel the passion and intent of their favorite artists as they soak in over 30,000 pieces by such influential talents as Henri Matisse, Georgia O'Keeffe, and Frida Kahlo. 
Pro Tip: For a more experiential art interlude, be sure to stop by the Nam June Paik exhibit, which showcases 200 works by this visionary renegade whose pieces melted the lines between art, music, performance, and technology.
Texas - Best Art Museums
Sightseeing Bus + Museum Art Tour, San Antonio
The Alamo city has lots to see, so make the most of your precious time here with a Sightseeing Bus + Museum Art Tour. Cruise around San Antonio's most popular attractions at your own pace with your unlimited access to the Hop-On Hop-Off Tour Bus for three days. 
Your art tour also includes admission to the San Antonio Museum of Art, a nationally renowned institution known for its comprehensive collection of Greek, Roman, and Egyptian art. Besides a remarkably diverse array of folk art, the museum is also home to several contemporary galleries featuring both international and local Texan artists. 
Related Post: 25 of the Most Amazing Free Things to Do in San Antonio
Don't sleep on one of their newest exhibits, 40 Years, 40 Stories: Treasures and New Discoveries from SAMA's Collection, commemorating the museum's 40th anniversary.
Pro Tip: Need a little snack to tide you over during the tour? Free coffee, water, and popcorn will be provided for all passengers at 111 Alamo Plaza!
Nevada - Best Art Museums
Museum of Dream Space, Las Vegas
Get your camera ready, as this is one art adventure that is just begging to be documented on social media! The Museum of Dream Space in Las Vegas is an incredible hands-on creative cultural experience. 
Related Post: 10 of the Most Fun Things to Do in Las Vegas During the Day
MODS is singularly dedicated to exhibiting digital art to break the mold of more traditional museums or art spaces. Their goal is to aid visitors on their art journeys by curating a fully interactive and synergistic encounter. 
Inspired by the design of Yayoi Kusama's famous infinite rooms, museum visitors will wander with ease and delight between installations featuring everything from cascading glowing light fixtures to 3-D walls covered in roses.
Canada - Best Art Museums
Royal Ontario Museum, Toronto
From mummies to dinosaurs to priceless Indigenous objects, the Royal Ontario Museum is home to an awe-inspiring collection of 13 million artworks, cultural objects, and natural history specimens. For over a hundred years, this institution of art, culture, and nature has been educating and inspiring visitors worldwide. 
Related Post: What are the Most Unique Things to Do in Toronto? 
Museum guests of all ages will feel their curiosity ignited as they gaze upon art and objects from Ancient Greece to Global Africa. Budding naturalists and future paleontologists will be in heaven as they pour over the hundreds of thousands of mammal and vertebrate specimens housed here.
Pro Tip: Besides being among the top 10 cultural institutions in North America, the ROM is also a glittering display of contemporary architecture with its famous exterior 'Michael Lee-Chin Crystal' designed by Daniel Libeskind.
Washington DC - Best Art Museums
DC National Gallery of Art Museum Tour, Washington DC
No day in our fair capital is complete without a bit of history or art. Conquer both when you join our DC National Gallery of Art Museum Tour. A museum built by the people, for the people, the DC National Gallery of Art, was created when the former secretary of the treasury Andrew Mellon donated his impressive art collection.
Related Post: 13 Absolute Must-See Washington D.C. Landmarks
Sitting pretty on the National Mall, the museum's two buildings contain:
more than 150,000 objects in permanent and loan collections

6.1-acre of temporary exhibits
Renaissance and classic art lovers will rejoice as the gallery holds the distinction of being home to one of America's only national collections of artwork produced by Renaissance artists, French Impressionists, and great American painters.
Let the timeless works wash over you on your guided tour as you view pieces from masters like:
Claude Monet

Raphael

Gilbert Stuart

Vincent Van Gogh

Edgar Degas
Pro Tip: Looking for a relaxing outdoor reprieve? Make sure to stop by the gallery's famous Sculpture Garden, a 6.1-acre oasis featuring modern sculpture works from artists such as Joan Miro and Marc Chagall.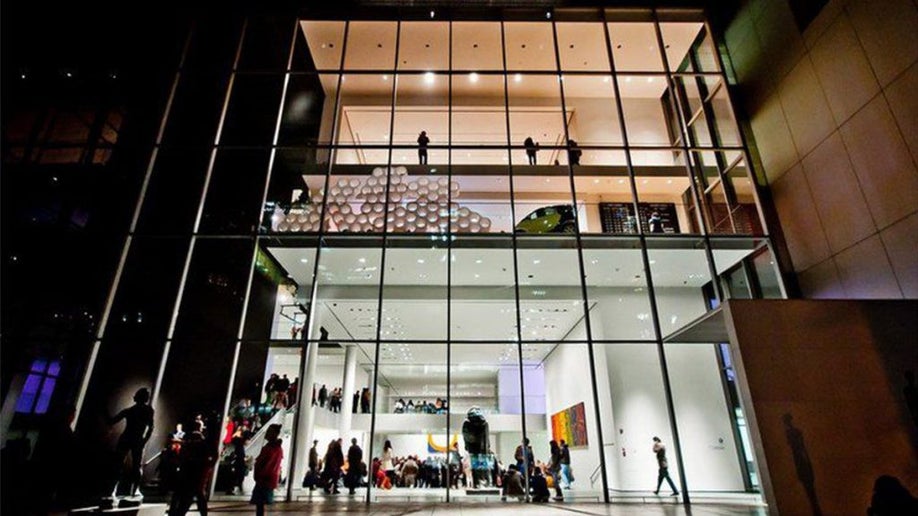 New York - Best Art Museums
Museum of Modern Art, New York City
It's all mod, baby! Modern Art comes to life at the esteemed Museum of Modern Art (MoMA) in New York City. This landmark icon of art and culture is home to over 200,000 works of both modern and contemporary art. 
Art is a living, breathing medium at MoMA. Visitors will find themselves enchanted by the variety of special exhibitions, film screenings, and daily gallery discussions offered here.
In addition to the ever-changing number of temporary displays, you can discover a number of renowned modern and contemporary pieces.
Related Post: Current Events and Festivals in New York City
Keep your eyes peeled for such stunning favorites as Vincent van Gogh's "The Starry Night" and Andy Warhol's "Gold Marilyn Monroe," along with works by Jackson Pollock and Jasper Johns.
Pro Tip: All special exhibitions, films, audio programs (in eight languages), and a free pass to MoMA PS1 are included with your general admission ticket.
Whitney Museum of American Art, New York City
Calling all American art aficionados! The Whitney Museum of American Art is the ideal place to reignite your appreciation of 20th century and contemporary American art. For almost a century, the Whitney has served as the reigning institution of American artists. It is proud to provide an unrivaled collection of both modern and contemporary art from visionaries such as:
Edward Hopper

Jackson Pollack

Georgia O'Keeffe
Almost as stunning as the art itself, the Whitney's new Renzo Piano building is a sight to behold. 
Pro Tip: Don't forget to check the current exhibits before your visit; alas, you miss out on comprehensive retrospectives such as Jasper Johns: Mind/Mirror!
Immersive Van Gogh Exhibit at Pier 36, New York City
Dive inside the rich, vibrant works of master painter Vincent Van Gogh when you attend the internationally acclaimed Immersive Van Gogh Exhibit at Pier 36.
Let Van Gogh's iconic works, like Starry Night and Sunflowers, wash over you as you enter a new alternate art-driven reality. This immersive, multi-sensory experience lets you explore Van Gogh's legendary works through an unmissable 360-degree show.
Prepare your imagination (and camera). The exhibit is designed by Emmy award-winning Broadway set designer David Korins. This paint-filled whimsical exhibit allows you to literally step inside these incredible post-Impressionist works by utilizing:
60,600 frames of video

90,000,000 pixels

over 500,000 cubic feet of projections
The Immersive Van Gogh exhibit even includes the use of an AI tool that allows visitors to write a personalized letter to Van Gogh and receive one in return. 
Illinois - Best Art Museums
Art Institute of Chicago, Chicago
Chi-town may be known for deep-dish pizza and the White Sox, but real art lovers know there is a whole world of art to discover in the Windy City! 
The Art Institute of Chicago is the second-largest art museum in the United States and holds over 300,000 pieces of art from around the world. Seamlessly travel through time as you witness art that spans centuries, ranging from Ancient Roman artifacts to sculptures from surrealist master, Dali.
Related Post: The Eight Best Chicago Museums You Can't Miss
Their impressive collection includes heavy hitters such as:
Monet

Hokusai

Bisa Butler

Vincent van Gogh

Mary Cassatt

Edward Hopper
Pro Tip: Short on time? The Art Institute has a helpful 'what to see in an hour' highlight that can help you make the most of your short(er) visit. 
Pennsylvania - Best Art Museums
Philadelphia Museum of Art, Philadelphia 
The Philadelphia Museum of Art might be most recognized for its famous stairs (thank you, Rocky), but it would be a shame to never venture inside this renowned epicenter of art, culture, and learning. 
Related Post: Philadelphia Historic Sites: The Ultimate Visitor's Guide
One of the oldest public art museums in the country. The Philadelphia Museum of Art contains a staggering 200 galleries, including many new spaces designed by legendary architect Frank Gehry. Whether you're a fashion fiend or an Asian art expert, there are over seven curatorial departments featured here, showcasing a wide range of mediums.
Impressively, the museum is home to:
the largest Marcel Duchamp collection

Renoir

Degas

Cézanne

Van Gogh
Pro Tip: Armour up! The museum also features the second most extensive collection of arms and armor in the United States.
Georgia - Best Art Museums
Center for Puppetry Arts, Atlanta
Kermit, Miss Piggy, and Big Bird are all anxiously awaiting your arrival at the Center for Puppetry Arts in Atlanta. This spacious 80,000 square foot museum is every puppet lover's dream, featuring the world's most extensive collection of Jim Henson artifacts. 
Ideal for young ones (or those just young at heart), the museum holds everything from Vietnamese water puppets to costumes and videos from cult favorites like Labyrinth and the Dark Crystal. 
An overflow of video elements makes the Center a can't miss ATL art destination. They include:
engaging exhibits

interactive experiences

the opportunity to take a selfie with Big Bird 
Pro Tip: No boring museum gift shops here! Instead, you can purchase everything from stop-motion kits, craft packages, Henson collectibles, and puppets at their incredibly stocked museum store. 
Florida - Best Art Museums
Museum of Graffiti, Miami
Looking for a cutting-edge street art escapade? Pack your bags for the sunshine state and head to Miami's Museum of Graffiti. 
Once thought of as criminals and outlaws, street artists are now exalted as masters of their craft. The Museum of Graffiti seeks to open the public's eyes to the history and subculture of this modern medium and its influence on design, fashion, and advertising. 
Related Post: Indoor Activities in Miami: What to Do When the Weather Gets in the Way
Brimming with color, excitement, and style, the Museum entails:
a sizeable indoor exhibition space

eleven exterior murals

a fine art gallery

a world-class gift shop stocked with limited-edition merchandise
Pro Tip: Before you sneak away to the beach, take a gander at the many vibrant large-scale outdoor murals commissioned by the Museum for the community of Wynwood by such famed international artists as Abstrk, Lady Pink, and Slick.
Art can move us, art can challenge us, and art can change us. The power of art to improve our lives and light fires of inspiration and creativity is infinite. 
There is nothing like the thrill of uncovering a new artist, museum, exhibit or collection to lift one's spirit or bring a smile to one's face.
With the stress and obligations of our everyday lives, it can be all too easy to put art on the backburner. Nevertheless, we challenge you this November 9th, Go to An Art Museum Day. Step away from the screen, get out of your own head, and into the museum of your choice!